The all-natural solution for improving soil structure for any crop or plant
AxisDE® diatomaceous earth products and Axis Ceramic® clay products are premium soil amendments designed to reduce water usage, improve drainage, reduce soil compaction and improve soil structure.
Both AxisDE and Axis Ceramic products reduce compaction and increase water and air permeability of the soil. These products increase plant available water, firm up soggy soils, loosen hard-to-work soils, provide better drainage and aid in nutrient transfer. Independent research has shown that 93% of the water absorbed by Axis products are available to the plants, more than TWENTY TIMES higher than other soil amendment products. In areas with inadequate natural rainfall and limited water available for irrigation, Axis products provide a way to achieve a consistent green turf with less irrigation.
Organic Soil Amendment for Cannabis
Axis is the perfect soil amendment for growing cannabis. Cannabis growers have embraced the tremendous water holding properties of AxisDE in creating their organic soil blends for fast growing, premium yield crops. Axis' unique structure helps supply nutrients, reduce compaction and provides a better root growth environment for the plants.
Axis products have the right properties necessary to promote plant, turf and garden growth:
Low bulk density – 25 lbs. per cubic foot (dry) and 52 lbs. when saturated.
Extremely porous – 82% porous to maintain infiltration and drainage
Reduces irrigation – High percentage of plant available water
Does not decompose – Soil volumes installed remain constant
Transfers air & water – Plants respond with more vigor and rootmass
Distributes moisture evenly – Axis increases hydraulic conductivity
Blends easily with other soil components – Works great with sand & organics
DESect: All-Natural Pesticide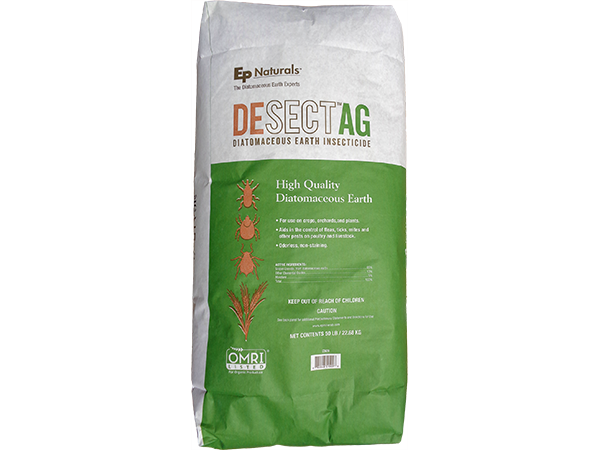 DEsect® is an insecticide produced from a special grade of fresh-water diatomaceous earth (DE) and is a highly effective insect control solution. DEsect is registered as a pesticide by the US EPA, and can be used in commercial farming, on crops and around food processing areas. DEsect meets all US requirements for use in organic farms and food processing.
The most effective DE insecticide available today.
DEsect is produced from a very unique source of DE that has shown to be more effective than any other DE insecticide product on the market today for killing insects. Independent studies show that DEsect is clearly better for insect control. When insects come in contact with DEsect, it absorbs their protective wax coating and their bodies are damaged by the sharp edges of the particles. DEsect also absorbs the insect's body fluids and they eventually die by dehydration. There is no built-up immunity as there is with chemical insecticides. DEsect does not break down as chemicals do, and the more it is used, the more insects feel unwelcome in the area.
DEsect features:
Helps control pests
For stored grain & animal feed areas
OMRI listed for organic use
Used in and around households
Easy to apply
No taste or smell
Introducing AgReady®, the new high performance moisture scavenger and flow agent for fertilizer blends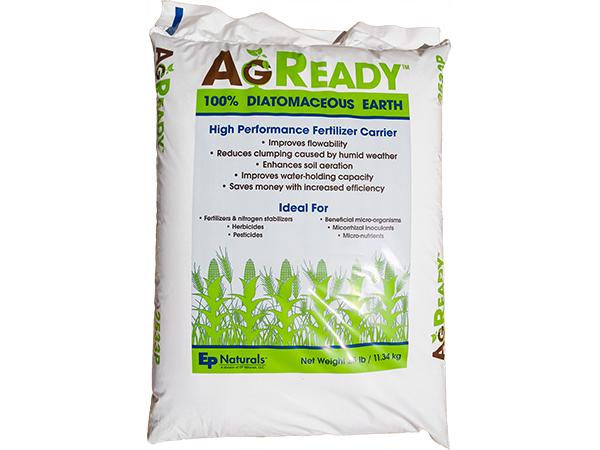 It's not easy being in the agricultural fertilizer business these days. Rising costs, declining crop margins, regulatory pressure and nitrogen runoff problems. What can you do?
You need AgReady, EP Minerals' granular diatomaceous earth (DE) or clay drying agent and carrier. Easy to use with dry or liquid agriculture blends. AgReady improves moisture absorption and product flow. Its low density makes it "ready" to use in your blends today.
AgReady provides cost savings benefits that far outweigh the small additive cost. Additive levels will vary depending on your fertilizer mix, humidity and volume of liquid added but are typically below 5 lbs/acre.
AgReady DE grades AG77, AG78 and AG79 are made from 100% pure diatomaceous earth. These products are light weight, easy to handle and highly absorbent.
AgReady Clay grades AG87, AG88 and AG89 are calcined Montmorillonite clay products that exhibit high liquid absorption capacity and low density. These products come from the bentonite family of clay deposits near Middleton, TN. Once kiln fired and processed, this clay provides a low attrition rate, large surface area, superior drying capabilities, and increased flowability in soil applications.
Ideal for:
Fertilizers and nitrogen stabilizer blends
Pesticides
Herbicides
Micro-nutrients
Mycorrhizal innoculants
Beneficial micro-organisms
Benefits:
Improves flowability
Reduces clumping caused by humid weather
Light weight
High moisture holding capacity
Durable and hard
Saves money with increased efficiency